Dr. Mohini Rawat DPT, MS, CMP, RMSK, ECS
Director of MSKUS Studies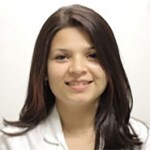 Dr. Rawat is a Board Certified Electrophysiology specialist by the ABPTS and Registered in Musculoskeletal Sonography ARMDS. She is also the Clinical Director of Hands-On EMG Testiing and an integral part to the success of our organization.
Dr. Rawat has been actively conducting and has published research in the area of Clinical Electrophysiology.  Her teaching appointments extend to Chief ElectroNeuroMyography faculty of Hands-On Seminars as well as guest lecturer for various PT university programs in the NY metropolitan area.
She has been trained in EMG/NCV testing by Dr. Dimitrios Kostopoulos, PT, DPT, PhD, DSc, ECS, who specializes in Electroneuromyography Testing, and is a Board-Certified Clinical Electrophysiology Specialist.
In addition to her expertise in electrophysiology, Dr Rawat also specializes in Musculoskeletal Ultrasound Imaging which adds significant value in the area of Orthopedic Manual Therapy. She believes that good interpersonal relations and compassion, along with a sound clinical background, can work wonders in patient care.
Her experience includes providing comprehensive direct patient care in broad-scope departments ranging from Orthopedics, Neurology, Sports Injury, Critical Care, Geriatrics, Sub-Acute and Home Health, with a special interest in Orthopedic and Sports Physical Therapy.
She has a Doctorate in Physical Therapy degree from MGH institute of health professions in Boston and an Advanced Masters in Biokinesiology from the University of Southern California in Los Angeles. As part of her Master's thesis, she studied human tendons, especially Achilles tendon, using Ultrasonography to investigate the effects of overuse, disuse and tendinopathy on the tendon morphology.  She presented her tendon work as a platform presentation in the APTA CSM conference in San Diego, California.
She is an APTA-credentialed Clinical Instructor and a Certified Mulligan Practitioner, and is currently pursuing her Clinical Orthopedic residency from Touro College in New York.
Dr. Rawat is a member of the APTA (American Physical Therapy Association), the NYPTA (New York Physical Therapy Association) and the ACE (American Congress of Electroneuromyography).  Dr Rawat is the Clinical Director of Muscluloskeletal Ultrasound Studies of Hands-On Diagnostic Services.