Dr. Chirag Upreti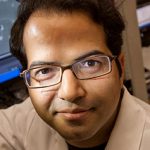 Dr Upreti is the Director of Research of Hands-On Diagnostic Services.  His goal is to fulfill the Purpose for the field of research of HODS which is to create, support and conduct research in the areas of Electrophysiological, Neuro-musculoskeletal Ultrasound Imaging and Vestibular Testing technologies that provide the necessary evidence for the properapplication and utilization of these technologies
Dr. Upreti is a Research Associate in the Department of Neuroscience at Columbia University Medical Center where he is conducting research on the cellular and molecular mechanisms of attention, learning and memory processes. He has been conducting research in the field of neuroscience for the past 8 eight year, specializing in the field of neuroplasticity. He has trained extensively in neuroimaging techniques such as two-photon laser scanning microscopy, confocal microscopy and in vivo fluorescence imaging using miniature integrated microscopes. He is also a trained electrophysiologist in methods such as patch clamp electrophysiology and multi-tetrode recordings from in vivo brain.
Dr. Upreti graduated with a Ph.D. from New York Medical College where upon graduation he received the Martha Lucas Pate, Ph.D., Memorial Award, New York Medical College 2012: For demonstrating academic excellence and leadership in social and humane concerns in medicine, science or health.
He has worked on a variety of models of neurological disorders such as epilepsy, traumatic brain injury and intraventricular brain hemorrhage. His research work on the cellular basis of epileptogenesis has been presented at various national and international conferences including the annual meeting of the American Epilepsy Society and the Society for Neuroscience. In additional he has published his work in the prestigious journal Brain and an invited review in Neuropharmacology on metabotropic receptors in synaptic plasticity. Dr. Upreti has co-authored papers in Science Translational Medicine, The Journal of Neuroscience and the Journal of Neuroscience research. These papers have been cited in premier journals such as Nature Reviews Neuroscience, Neuron and Epilepsia. A particular study that Dr. Upreti participated in, demonstrated Chronic Traumatic Encephalopathy as one of the main pathology caused by traumatic brain injuries, such as concussion injuries to athletes and blast trauma injuries to combat veterans. This study received national attention as was citied by, among others, The New York Times, CNN and ESPN.
Dr. Upreti is a member of the Society for Neuroscience and the New York Academy of Sciences. He is also a past member of the American Society of Nanomedicine and American Epilepsy Society.